This page showcases some of my favorite GU cards of Jordan.  This just goes to show that a card does not have to be autographed or have fancy finishes to be considered attractive.  Sometimes, a clean, classic design can do wonders.
2001-02 Upper Deck 10th Power GU
Somehow this simple jersey card was insanely hard to find, it is supposedly limited to 23 copies, but unconfirmed.
2001-02 Upper Deck Winning Touch GU Jersey
Yet another from 01-02 that proved to be very difficult to find, no estimation of the number of copies, but most likely SP
1999 Century Legends Jerseys of the Century
Clean, simple design, along with the black jersey and red pinstripe make this a card I am happy to own.
2000-01 Upper Deck Game Jersey Patches Gold
Just great action shots paired with patches and serial numbering put these two cards from 00-01 near the top of my list.
2000-01 Upper Deck MJ Materials Quad
Numbered out of only 23 cards, this is one of the rare GU cards that does not feature Jordan in an NBA uniform of some kind.  This had long been one of my "dream" cards as well.
 2002-03 Upper Deck Number Patch
Very difficult odds to pull these cards from this release
2003-04 Exquisie Collection Triple Patch
Venturing from my late 90's obsession, this card instantly caught my attention.  How could a simple patch card from 03-04 be so beautiful?  Upper Deck proved it was possible with this card and it remains one of my favorites, not just from 03-04, but of all time.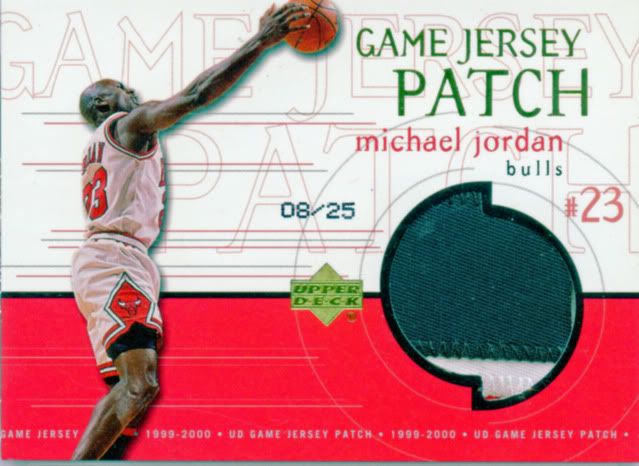 1999-00 Upper Deck Game Jersey Patch and "Super" Patch
So called "Super" patch because of it being limited to only 25 copies.  The normal, unnumbered  patch version was hard enough to pull.  The "Super" patches remain extremely difficult to locate of any player and usually go for a large sums of money.
2000-01 Upper Deck Slam GU jersey /23
One of his lesser known cards because it is so rarely seen
1998-99 Upper Deck Game Jerseys
Classic, clean, iconic
1997-98 Upper Deck Game Jerseys
The first year of GU cards from Upper Deck produced this amazingly simple, yet elegant card.  It remains my favorite GU card not only because of its historical significance, but also because I feel it is the best-designed.  An autographed version /23 does exist which I could not obtain.